SEGGER—Free Tools and Utilities
SEGGER, the experts for embedded solutions, provides a number of free tools and utilities that can be used free of charge for personal, non-commercial use. All these utilities have in common that they are based on software developed by SEGGER. As such they are a demonstrator platform of the software and at the same time a helpful utility of the task at hand.
FIND Discovery - The FIND response collector
FIND Discovery is the simplest way to display collected FIND information. It sends queries and lists all valid responses of the devices in the local network. FIND Discovery is available to download for free for Microsoft Windows, Linux and macOS.
Composite Device Driver Fixer
Composite devices (devices with multiple USB interfaces, e.g. CDC + BULK) sometimes exhibit issues on Windows 7 when connected to a USB 3.0 controller which is using third party drivers. Often only one of these interfaces will be made available through the third party driver.

This tool allows to correct the registry entry for your device so that it is recognized as a composite device instead of a single interface device.

To use it simply start the tool, enter the vendor and product IDs of your device and click "Fix Driver".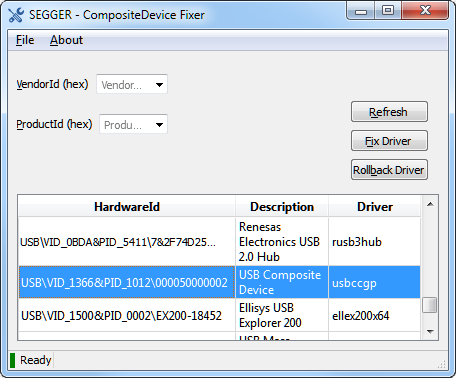 emSecure Sign & Verify is a Windows application for the protection of personal files. It makes signing and verifying digital documents easy by simply using Drag and Drop. The utility is provided free of charge for personal use.

Sign & Verify makes any kind of data transmission more secure, be it for commercial or private use. A pair of public and private keys is used to create and verify the digital signatures.
Bin2C - Binary to C Converter
Bin2C is a command-line utility for Windows which takes a binary (or HTML or text) file as input and converts it to a C-array that can be directly included into a target application code. The utility does not require additional software to be installed (runs stand-alone). Typical usage applications are data that need to be included in a C-program,
such as FPGA configuration data, bitmaps in portable format (such as GIF, PNG), web pages that need to be delivered by a built-in web server and more.
emVNC is a universal VNC Client, available for Windows, macOS and Linux. With this tool, users can connect to any VNC server. Any device with a VNC server can be connected to any other computer in the network this way, using IP access. The device can then, for example, be remote controlled via VNC.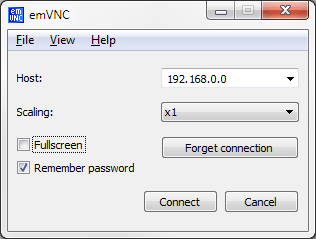 MD5Calc - Hash Calculator
MD5 Calc is a command-line utility for Windows that generates a 32-digit MD5 hash for a given file. The utility does not require additional software to be installed (runs stand-alone).
pwGen - Password Generator
pwGen is a password generator for Windows. It generates a pseudo-random 8-character password and copies it with a single click into the clipboard. This tool does not require installation and provides passwords from a trustworthy source.