Evaluate and Test our Smart Middleware Solutions for Embedded Systems
SEGGER's intention is to cut software development time for embedded applications by offering high quality, compact, flexible, and easy-to-use products, allowing developers to concentrate on their applications.
All provided ports are done and verified by SEGGER and not by customers. For an easy start with our software products, SEGGER recommends to make use of its emPower eval board, which provides a comprehensive set of SEGGER's middleware products. emPower is an affordable platform for customers to enhance software evaluation, prototyping, and proof of concept.
In addition, SEGGER offers ready-to-use eval versions for a variety of evalboards. The packages include some or all of the following components: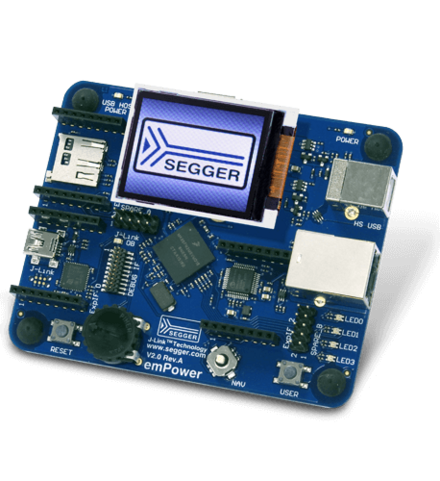 Check the list of supported vendors below for available eval software versions
Support for other evalboards is constantly added. For detailed instructions on how to use our SEGGER eval software, please download our manual:
Getting Started with SEGGER Eval Software

Some packages are executable demos which cannot be modified; some packages are trial versions which come with the software in a library and the application in source code form, as well as a project for the IDE that has been used.

For more information please contact us at sales@segger.com.