Embedded Studio
The leading multi-platform IDE
Embedded Studio is the all-in-one integrated development environment (IDE) for embedded systems.
Embedded Studio is the all-in-one solution for managing, building, testing and deploying embedded applications. This means smooth, efficient development operations thanks to its wide range of features. The powerful project manager enables the management of projects large and small. Version control features enable automatic application deployment.
With a Visual Studio-like appearance, SEGGER's Embedded Studio enhances both efficiency and user friendliness. Embedded engineers now enjoy the ease of use that many software developers know thanks to its intuitive yet customizable layout.
All-in-one solution
Visual Studio-like appearance
Free for non-commercial use
Free for commercial use with licensed partner devices
Multi-platform: Windows, Linux or macOS
GCC & SEGGER C/C++ toolchains included
Multi-threaded build minimizes build times
Complete package: efficient & flexible
Embedded Studio comes with two toolchains: SEGGER and GCC, both ready-to-run. External toolchains can also be used. All toolchains under one roof enable maximum flexibility.
The J-Link debug technology debugs and analyzes applications in no time. Thanks to the fast startup, short loading time, and simultaneous setup, developers spend less time waiting, leaving them more time to improve the efficiency.
Managing & organizing projects in one place with the project manager facilitates a project set up to fit the developers' needs. With multi-project solutions, dynamic folders, and property inheritance, Embedded Studio offers the utmost in flexibility.
Developers can seamlessly switch to Embedded Studio from other IDEs. The project importer enables project setups based on those previously created.
Communication between the debug I/O and the debug terminal can be done with the least intrusive real-time transfer (RTT) technology. Execution Trace and Execution Profile analyze trace data from the target to provide insight into the system's behavior.
The debugger tracks the application's OS to visualize what tasks are up to or how much stack each task uses. OS awareness can easily be added for any operating system.
The first-class Source Code Editor supports syntax highlighting, automatic code indentation, and matching bracket highlighting. Additionally it includes code completion, configurable code, and comment templates.
Embedded Studio features different means of application analysis: memory use, static stack analysis, and static code analysis. This provides all necessary information to improve the application before a debugging session even starts.
The seamlessly integrated J-Link/J-Trace debug probes provide the foundation that boosts Embedded Studio's powerful features. With the core simulator, applications can be tested before the hardware is available.
Embedded Studio comes with a complete instruction set simulator for all supported architectures.
Simulation is ideal for:
becoming familiar with new architecture before the hardware is actually available
writing and testing application programs when hardware is scarce
working remotely, i.e. without access to the physical hardware
automated testing
With Embedded Studio, it is very easy to generate programs and execute them in the simulator.
Stack Overflow Prevention (STOP) technology
With STOP technology, the Compiler adds a call to stack limit-check routine wherever necessary, before adjusting the stack pointer. As an option for the Clang-based, highly optimizing SEGGER Compiler, STOP can be easily enabled, without any change to application code. This way, all stack overflows are prevented. If a stack overflow has been prevented, the system can enter a safe state and recover.
Experts' choice: Embedded Studio from SEGGER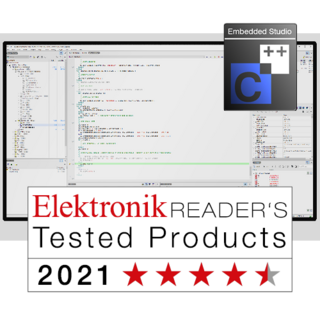 | Hardware Component | Item |
| --- | --- |
| CPU | 2GHz |
| Memory | 4GB RAM |
| Disk Space | 2GB |
With similar look and feel on all platforms, and fully portable projects, developers enjoy efficient development on Windows, Linux, and macOS, on Arm, Intel, and Apple Silicon.
In order to properly use Embedded Studio, please make sure you have the latest J-Link Software Package installed. Downloads for all platforms and installation instructions can be found on the J-Link download page.